By now most businesses understand the multiple benefits of On-Site paper shredding, or materials destruction services. With privacy laws such as HIPAA (the Health Insurance Portability and Accountability Act) as well as FACTA (the Fair and Accurate Credit Transaction Act), businesses today are responsible for protecting their customers information.
In addition to personal information associated with privacy theft, confidential and/or sensitive information regarding company practices, potential clients and trade secrets as well as other proprietary information should be disposed of properly (meaning beyond a shadow of a doubt) especially in today's technological climate. Our clients choose our on-site services not only for convenience, but for efficiency in terms of time management and most importantly for security and "peace of mind" and at the risk of sounding immodest, we can confidently say that our reputation is well-warranted.
First of all in terms of convenience, Data Disposal provides the equipment and personnel necessary to ensure all material is "destroyed" at the location of your choice whether it be an office, residence or even a storage facility. Secondly, here at DDI, when we say "destroyed" we literally mean "destroyed". We don't label our On-Site services as On-Site "Shredding Services", or "Paper Shredding" because that simply would not be accurate. We list our services as "On-Site Disintegration" because not only do we take our business seriously, we take yours as well.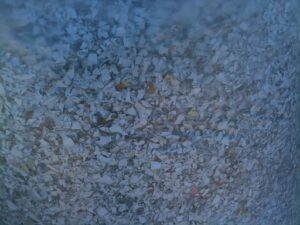 Our standard On-Site Disintegration service utilizes a knife-mill disintegrator where all material is reduced to a maximum output size of 3/8″ in diameter (roughly the size of confetti). This leaves our clients with a sense of safety and security especially since they know there is zero possibility of materials being re-constructed after we're finished. Highly sensitive and/or DOD controlled security documentation is disintegrated to a maximum output size of 3/32″ in diameter (a fine dust) consistent with NISPOM requirements.
Our On-Site vehicles are equipped with Security Engineered Machinery (SEM) Model 22 knife-mill disintegrators. The destruction equipment is powered with onboard Kohl Model A225610017 Diesel generators. The units are California Air Resources Board (CARB) registered Tier 3 engines and permitted consistent with CARB regulations. No external power source is required. After the disintegration process, we make sure that all remnants are recycled.
Our disintegration process can handle paper, cardboard, mylar, vellum, floppy disks, video cassettes, audio cassettes, CD-ROM platters, DVD platters, microfilm and microfiche. The process can handle staples, paperclips, comb-binds, snap-binds (plastic) and spiral binds (plastic).
Now we've touched base on the fact that companies and individuals are more than satisfied with having their materials destroyed off-site at our Spring Valley location because in terms of Shredding Services, we go above and beyond the industry standard 1" shred size. Hopefully after reading this, readers will begin to recognize that we also go above and beyond with our On-Site services because we do realize that many of our clients truly prefer the fact that we go the extra mile and when it truly matters to them you can be sure that it absolutely matters to us.