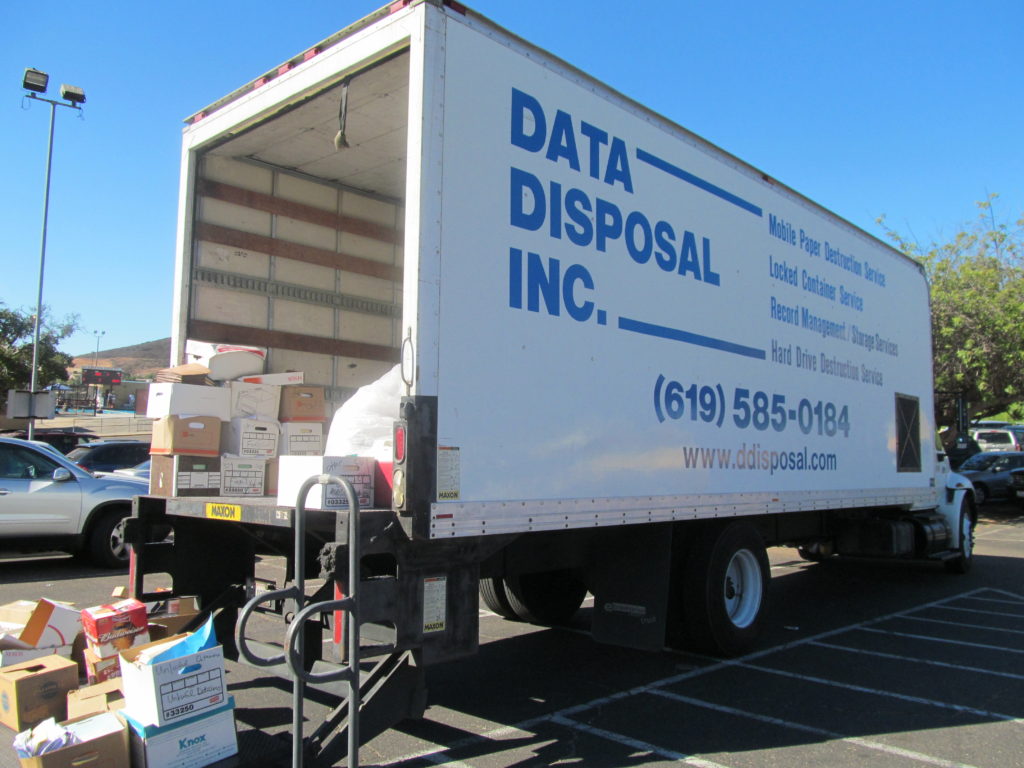 Specialties
Data Data Disposal specializes in the disposal, destruction and disintegration of your sensitive/confidential/ materials both on-site and off-site. We also provide lockable collection container services. Our San Diego Document and Paper Shredding Services are also available to walk-in customers. We strive to maintain the highest standards in Document and Paper Shredding Services in San Diego and all of Southern California.
Data disposal is also a free drop off location for your e-waste.
Whether it be paper shredding services, or disintegration as prescribed by government protocol – Data Disposal has properly handled sensitive materials for over 28 years.
After materials are processed, they are taken to a Recycling facility as part of our green-initiative. Clients are always welcome to observe during the destruction process and a Certificate of Destruction is issued upon completion. There are NO long-term contracts required for any client as we ultimately want to deserve your business.
History
Established in 1984.
Data Disposal, Inc. is a family owned business that has been serving Southern California since 1984 providing materials destruction and document/paper shredding services out of our home base in San Diego. We pride ourselves in providing impeccable customer service, competitive pricing, and an unparalleled commitment to the sensitivity of the material placed in our charge.
Over the years we have earned a solid reputation for being reliable, trustworthy and affordable. We pride ourselves on providing exceptional service as well as excellent customer service.
Should you ever have questions regarding pricing, or our on/off-site: materials destruction, document/paper shredding services, please feel free to call as we are always happy to help assist in any way.
Meet the Business Owner Bob Carrol
Resident of San Diego since 1973. Navy brat born in Panama and has lived in Bermuda, New Jersey, Kansas, Texas, Virginia, Rhode Island and, now, California.
Married to Constance Maureen (Connie) and we love to travel. Seems like we either are preparing for an upcoming trip or planning on a new adventure.
Father to Galen, Donovan & Erin. Galen is the Operations Manager of Data Disposal and a passionate sports enthusiast. Donovan, just out of the Marines having served in Afghanistan, is now a college student. Erin lives on the West Coast, married to Raymond, who is in the Navy.
Step-dad to Shannon & Jason. Shannon is a highly successful district rep for Kirsh Rubbermaid and married to Mike. Jason is a professional DJ and owner of MagicLand Entertainment.
Three grandkids. All three have succeeded in wrapping Connie and me around their little fingers.
Love to camp, off-road and TRAVEL.